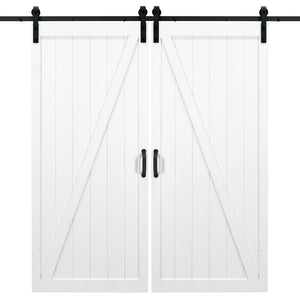 These Two Custom Made Modern 1 Panel Z Shape Wood  Farmhouse style sliding barn door will be a great addition to your home!

Replace your exist...
Read more
These Two Custom Made Modern 1 Panel Z Shape Wood  Farmhouse style sliding barn door will be a great addition to your home!

Replace your existing doors or add one where there isn't a door! This door also make a great wall decor if you don't have any area for a sliding door.
It can be installed for Bathrooms, bedrooms, living rooms, man caves, wine cellars, laundry rooms, kitchen pantries, entryways...

You can add modern/ Rustic hardware that will give your home different styles ( a modern home decor , a Modern Farmhouse decor and Rustic home Decor. )

The price listed will have the door PRIMED and ready for paint (we recommend the customer to paint with Satin Finish.)

The Door sizes will be :

24" Width X 84" Length each door ( Design from 1 side, Planks in the back ) primed / Stained / Painted only - 2 Doors Only

* Price is for Both doors and size is for each door
** We have a high Standard Shipping Rate that is adjustable once you share with us your area code**
**Please note** **Sliding door track/rollers are NOT included in the door price**
*** OUR DOORS ARE NOT ROUTED FROM THE BOTTOM. PLEASE ASK FOR IT. *** ("IT'S EXTRA CHARGE" )

*** We hand prime and spray our doors so you can be able to do any touch up on arrival and paint them later ****

*** We ship with LTL Freight Shipping companies , they offer curbside delivery** If you would like an inside delivery, 2d floor..… please let us know to get you a quote for that. ***
** We don't Recommend to ship the doors painted PRIME ONLY cause in transit some scratches may happen that we don't have control of it's easier to fix if it's primed**
Notes:

- I'm very flexible and cooperative with any custom requests.
- Please feel free to contact me at any time for any questions or for shipping rate to your area. (We have a high Shipping that will change depending on your area)
- Please allow 6-8 working weeks for stain or Paint and 4-6 weeks for prime
- Build time DOES NOT include shipping time.
- Price may vary depending on custom sizes. ( Please feel free to ask us)
- None-Refundable.
- Pick up available Los Angeles/ Orange County Areas.
- Made in USA


* Please note in rare instances damage may occur during shipping. We encourage our customers to inspect the items for damage while the carrier is present. Do not accept your delivery if damage is evident! If not present for delivery, please take pictures before unpacking! Take pictures of everything for the claim we will have to submit.
Thank you.

Disclaimer:
Wood is a natural product that responds to temperature and humidity variations by expanding and contracting. Sometimes these changes may be noticeable in the physical appearance of the product.
If you would like the door painted or primed you will still se the wood imperfections and grooves.

Although every care is taken to ensure our products are able to handle temperature and humidity changes, the conditions of your home can affect the wooden products you buy from us. Your items can experience small movements and cracks as it adjusts - this is not a fault, but a natural occurrence within the fibers of a natural product.