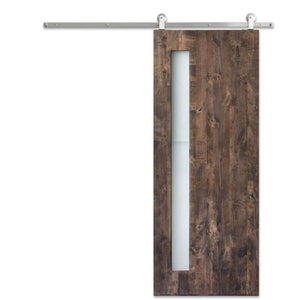 Read more
Hollyhead contemporary clear glass barn door is built with attention to detail. It will add a touch of luxury to your home decor.

𝐒𝐓𝐘𝐋𝐈𝐒𝐇 𝐅𝐀𝐑𝐌𝐇𝐎𝐔𝐒𝐄 𝐃𝐎𝐎𝐑: Improve the charm of your living space with the Cali Custom Build Glass Barn Door. This beautifully designed barn-style door combines the rustic appeal of farmhouse aesthetics with a modern touch.

𝐒𝐋𝐈𝐃𝐈𝐍𝐆 𝐋𝐈𝐆𝐇𝐓 𝐏𝐀𝐍𝐄𝐋 𝐃𝐄𝐒𝐈𝐆𝐍 𝐃𝐎𝐎𝐑: Featuring a unique sliding light panel design, this barn door allows natural light to flow through while maintaining privacy. The glass panels add an elegant touch and create a sense of openness, making them a perfect addition to any room.

𝐏𝐑𝐄𝐌𝐈𝐔𝐌-𝐐𝐔𝐀𝐋𝐈𝐓𝐘 𝐂𝐎𝐍𝐒𝐓𝐑𝐔𝐂𝐓𝐈𝐎𝐍: Crafted with meticulous attention to detail, this glass barn door is made from high-quality materials to ensure durability and longevity. It is designed to withstand daily use and provide a reliable sliding mechanism.

𝐒𝐈𝐌𝐏𝐋𝐄 𝐈𝐍𝐒𝐓𝐀𝐋𝐋𝐀𝐓𝐈𝐎𝐍 𝐃𝐎𝐎𝐑: Cali Custom Build's Glass Barn Door has all the necessary hardware and clear instructions for easy installation. You can quickly transform your space without extensive renovations or professional assistance.

𝐕𝐄𝐑𝐒𝐀𝐓𝐈𝐋𝐄 𝐀𝐍𝐃 𝐒𝐏𝐀𝐂𝐄-𝐒𝐀𝐕𝐈𝐍𝐆: Modern barn style door is an excellent space-saving solution, ideal for areas where traditional swinging doors may not be practical. It works well in bedrooms, living rooms, offices, and more, adding a touch of elegance and functionality.

𝐂𝐔𝐒𝐓𝐎𝐌𝐈𝐙𝐀𝐁𝐋𝐄 𝐎𝐏𝐓𝐈𝐎𝐍𝐒: With Cali Custom Build, you can customize your glass barn door according to your preferences. Choose from various finishes, sizes, and hardware options to create a truly personalized and unique piece for your home.