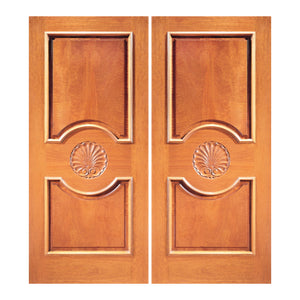 Read more
Cali Custom Build Enhance the beauty of your home with the exquisite Axeriah Hand-Carved Home Door. Crafted with precision, the Cali Custom Build-in stock door adds a touch of elegance and charm to any house. Explore our in-stock collection of hand-carved doors and choose the perfect one for your home.

𝐏𝐑𝐄𝐌𝐈𝐔𝐌 𝐂𝐑𝐀𝐅𝐓𝐒𝐌𝐀𝐍𝐒𝐇𝐈𝐏: Skilled artisans meticulously craft each Axeriah hand-carved home door.

𝐂𝐔𝐒𝐓𝐎𝐌𝐈𝐙𝐀𝐁𝐋𝐄 𝐎𝐏𝐓𝐈𝐎𝐍𝐒: Tailor the design and specifications of your door to match your unique preferences.

𝐄𝐍𝐇𝐀𝐍𝐂𝐄 𝐘𝐎𝐔𝐑 𝐇𝐎𝐌𝐄'𝐒 𝐀𝐄𝐒𝐓𝐇𝐄𝐓𝐈𝐂𝐒: Add a touch of elegance and charm with our hand-carved doors.

𝐃𝐔𝐑𝐀𝐁𝐋𝐄 𝐀𝐍𝐃 𝐋𝐎𝐍𝐆-𝐋𝐀𝐒𝐓𝐈𝐍𝐆: made with high-quality materials for a sturdy and reliable house door.

𝐓𝐑𝐀𝐍𝐒𝐅𝐎𝐑𝐌 𝐘𝐎𝐔𝐑 𝐄𝐍𝐓𝐑𝐘𝐖𝐀𝐘: Make a lasting impression with a custom door that reflects your style.

𝐔𝐍𝐈𝐐𝐔𝐄 𝐀𝐍𝐃 𝐄𝐗𝐐𝐔𝐈𝐒𝐈𝐓𝐄 𝐃𝐄𝐒𝐈𝐆𝐍𝐒: Discover a wide range of hand-carved options for a truly personalized touch.

𝐀𝐝𝐯𝐚𝐧𝐜𝐞 𝐅𝐞𝐚𝐭𝐮𝐫𝐞𝐬:

Prehung and prefinished options are available.
The price is for a single door only (slab).
Artistic carvings by master craftsmen
Hand-selected, premium mahogany
All doors are sold. 1 3/4′′ thick
Hand Carving on Both Sides

𝐍𝐎𝐓𝐄: Special order sizes are available by request. Please call for a free quote.