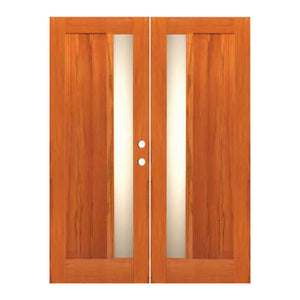 Read more
A modern, rustic interior house door is a stunning addition to elevate the style of your home. Meticulously crafted with precision and care, the cali custom build's door seamlessly combines modern and rustic elements, creating a sophisticated and inviting atmosphere in any room—a perfect blend of modern and rustic aesthetics.

𝐏𝐑𝐄𝐌𝐈𝐔𝐌 𝐂𝐑𝐀𝐅𝐓𝐌𝐀𝐍𝐒𝐇𝐈𝐏: Crafted with precision and attention to detail, modern interior doors add a touch of sophistication to any interior space. They are crafted from premium materials, ensuring strength, stability, and resistance to wear and tear.

𝐐𝐔𝐀𝐋𝐈𝐓𝐘 𝐀𝐍𝐃 𝐋𝐎𝐍𝐆𝐄𝐕𝐈𝐓𝐘: Enhance the beauty of your home with this high-quality, handcrafted modern door designed for durability and longevity.

𝐂𝐎𝐌𝐅𝐎𝐑𝐓𝐀𝐁𝐋𝐄 𝐀𝐓𝐌𝐎𝐒𝐏𝐇𝐄𝐑𝐄: Create a warm and inviting atmosphere with the rustic charm of this barn door in the house.

𝐕𝐄𝐑𝐒𝐀𝐓𝐈𝐋𝐄 𝐃𝐄𝐒𝐈𝐆𝐍: Axirya is Ideal for bedrooms, living rooms, and other areas with a modern and rustic ambiance.

𝐄𝐀𝐒𝐘 𝐈𝐍𝐒𝐓𝐀𝐋𝐋𝐀𝐓𝐈𝐎𝐍: An effortless installation process allows for quick setup and hassle-free enjoyment with the barn door.

𝐓𝐈𝐌𝐄𝐋𝐄𝐒𝐒 𝐀𝐏𝐏𝐄𝐀𝐋: Transform your house into a stylish sanctuary with the timeless appeal of this modern rustic door. Make a statement with the perfect fusion of contemporary design and rustic allure. Experience the perfect balance of style and functionality with this exceptional home door.

𝐒𝐏𝐄𝐂𝐈𝐀𝐋 𝐅𝐄𝐀𝐓𝐔𝐑𝐄

Hand selected premium Rustic hardwood
Dual, matte glass for energy efficiency
Engineered stile and rail construction
Wood has been carefully kiln dried
Available in a wide variety of sizes
Prehung and Prefinish options available
Price is for single door only (slab)
Price is FOB Los Angeles, California
Price subject to change without notice
All doors are sold 1 3/4″ thick