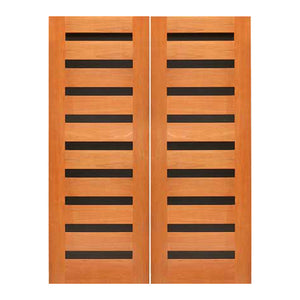 Nexzara Modern Interior Rustic Contemporary Home Door is the perfect additio...
Read more
Nexzara Modern Interior Rustic Contemporary Home Door is the perfect addition to any home looking to upgrade its interior doors. Made by Cali Custom Build, this unique door combines modern design with rustic touches to create a stunning piece that will impress your guests.
𝐒𝐋𝐄𝐄𝐊 𝐀𝐍𝐃 𝐌𝐎𝐃𝐄𝐑𝐍 𝐃𝐄𝐒𝐈𝐆𝐍: The sleek and modern design features clean lines and a minimalist aesthetic, making it perfect for those who prefer a contemporary look. On the other hand, the rustic elements of the door add warmth to any room it's installed in, giving it a cozy and welcoming vibe.
𝐕𝐄𝐑𝐒𝐀𝐓𝐈𝐋𝐄 𝐃𝐄𝐒𝐈𝐆𝐍: Interior door versatile design makes this door suitable for various uses, from bedroom and bathroom doors to closet and pantry doors. It can even be used as a barn door in your house, adding a touch of country charm.
𝐁𝐄𝐒𝐓 𝐂𝐇𝐎𝐈𝐂𝐄: Rustic door is one of the best interior house doors for sale online, with its superior quality and unique design setting it apart. If you're looking for a way to upgrade your home's interior doors, the Nexzara Modern Interior Rustic Contemporary Home Door is the perfect choice.
𝐄𝐀𝐒𝐘 𝐒𝐄𝐓𝐔𝐏: Installation of the Modern Interior Rustic Contemporary Home Door is a breeze, thanks to its easy-to-follow instructions and pre-drilled holes that make mounting straightforward. Additionally, the door hardware comes in a wide range of sizes to fit any doorway, making it a versatile option for any home renovation or construction project.
𝐔𝐍𝐈𝐐𝐔𝐄 𝐌𝐀𝐓𝐄𝐑𝐈𝐀𝐋𝐒: One of the standout features of this door is its unique combination of materials. The sleek and modern look is achieved through high-quality glass panels, while the rustic charm comes from the solid wood frame with an attractive grain finish. This mix of materials creates a stunning contrast that adds depth and character to any room.
𝐋𝐎𝐍𝐆-𝐋𝐀𝐒𝐓𝐈𝐍𝐆: Another great feature of this wooden door is its durability. Made with sturdy materials, it can withstand heavy use and wear, making it ideal for busy households or commercial spaces. The thick and scratch-resistant glass panels ensure they remain clear and pristine even after years of use.
𝐕𝐀𝐋𝐔𝐄 𝐅𝐎𝐑 𝐌𝐎𝐍𝐄𝐘: Last but not least, this door offers excellent value for money. At an affordable price, it provides a stylish and durable solution for your interior door needs without breaking the bank. Plus, with its timeless design, you can be confident that it will look great in your home for years.
𝐍𝐎𝐓𝐄
Hand selected premium Rustic hardwood

Iron inserts for industrial contemporary look

Engineered stile and rail construction

Wood has been carefully kiln dried

Available in a wide variety of sizes

Pre-hung and Pre-finish options available

Price is for single door only (slab)

Price subject to change without notice

All doors are sold 1 3/4″ thick